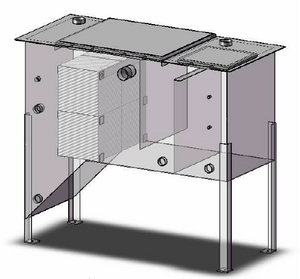 Oil Water Separators – OWS Series
Newterra Oil Water Separators are designed to remove oil from a liquid phase inlet stream. As the oil/water mixture is passed through the coalescing oil/water separator, larger oil droplets migrate to the surface to be collected and skimmed off. The coalescing media collects the smaller droplets until they are large and buoyant
enough to float to the surface.
The standard OWS Series are fabricated from carbon steel. For corrosion resistance, the interior is epoxy coated and the exterior is painted. Optional stainless steel construction is also available. A large lid allows access to the coalescing media and oil skimmer while a small lid allows access to the pump-out tank.
Standard Features:
Standard finish: Interior is epoxy coated. Exterior is painted newterra blue over zinc primer (except stainless steel option)
Sacrificial anode to prevent corrosion of tank.
11 AWG carbon steel construction
Sludge containment section
Adjustable oil skimmer
Water underflow/overflow weir design
Easy removal of coalescing media for cleaning
High Alarm Level Coupling and Pump High/Low Level Coupling in the pump-out chamber
Click here for a downloadable PDF