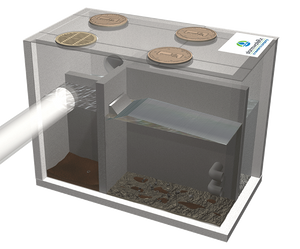 Clara Gravity Separator
Clara (KLAR-uh) is a patented oil-water separator for basic industrial stormwater treatment that can be used as a standalone treatment or as part of a treatment train. Used for spill control, solids settling and floatables removal, this system is the most basic stormwater treatment BMP, and includes an internal high-flow bypass essential for stormwater applications. Clara is available with optional coalescing media packs for highest hydrocarbon removal performance, or with a screen for plastics and trash removal. Clara can be used alone or can double as a pump station to filtration.
Click here for a downloadable PDF
Clara Stormwater Separation from StormwateRx, LLC on Vimeo.