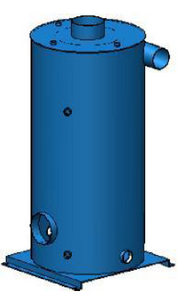 Vapor Liquid Separator Filter
Newterra VLW Series Vapor Liquid Separators are capable of capturing entrained water from a process air stream. The separators are designed with a tangential inlet to
utilize centrifugal forces to aid in the air/water separation. The water collects in the bottom of the separator while the air exits the large discharge pipe at the top.

Construction:
The Vapor Liquid Separator is fabricated from 1/8" and 3/16" carbon steel. The
exterior is epoxy coated. The separator is built standard with a 6" cleanout in the bottom to allow access to the separator interior.

Standard Features:
· Carbon steel construction
· 6" cleanout with plug
· newterra blue urethane exterior coating
· Floor mounting brackets
· 1.5" drain coupling
· Baffle welded into base to reduce cyclonic swirling of water
· 1/2" FNPT coupling on top of separator for vacuum gauge
· Brackets are standard to mount an optional demister element
· 1" couplings for installation of sight glass
Click here for a downloadable PDF